Haiku R1/Beta4 has been released
From Forza's ramblings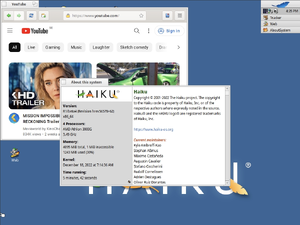 2022-12-26 R1/Beta4 of Haiku OS has been released!
The developer have been working hard on improving Haiku. With many hundreds of bug fixes and improvements, they released R1/Beta4 just in time for Christmas!
Haiku is an open source operating system targeting personal computing. It is inspired by BeOS and many BeOS applications run fine on Haiku. It has a thriving community and developers are active.
Go ahead and download a copy from https://www.haiku-os.org/get-haiku/r1beta4/
Major changes
Improved HiDPI support.
Thumbnails in Tracker.
WiFi drivers from OpenBSD - WiFi 5/6 support!
Improved NTFS support.
X11, Wayland and GTK3 support in Haiku.
Gnome Web browser ported to Haiku.
WINE ported to Haiku!
The full change log can be found at https://www.haiku-os.org/get-haiku/r1beta4/release-notes/