Blog/Rainbow
From Forza's ramblings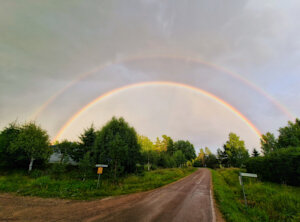 Yesterday I witnessed this wonderful double rainbow. It was raining in brief showers while the evening sun was shining strong at an low angle over the tree tops.
Rainbows are fascinating. If you study them closely, you'll notice that the sky appears brighter on the inside of the rainbow. This is because of the light refraction in the water droplets focuses more light towards the viewer inside the rainbow, while at the outside it scatters it, making the sky appear darker.
This phenomenon is referred to as "Alexander's Band". You can read more about it at Wikipedia
If you look closely at the outer rainbow you'll see it has its colours reversed. The secondary rainbow forms due to an additional internal reflection of light inside the raindrop. Instead of being reflected just once inside the droplet, some light is reflected a second time off the inner surface of the raindrop before exiting. During this second reflection, the light is inverted, which means the colors are now reversed compared to the primary rainbow.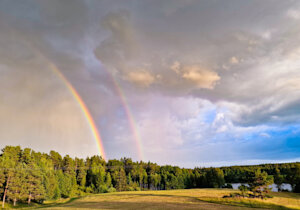 Wikimedia commons has a really nice gallery of rainbows. Go and see if you can notice the same phenomenon in any of those :)